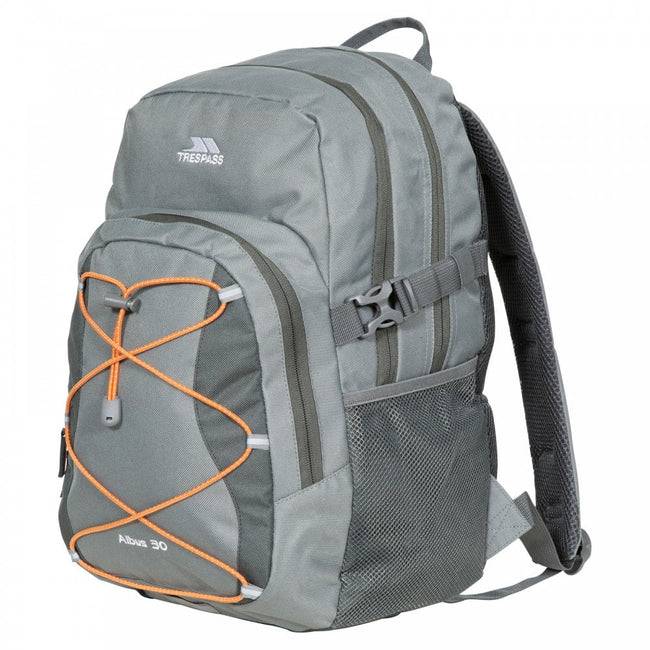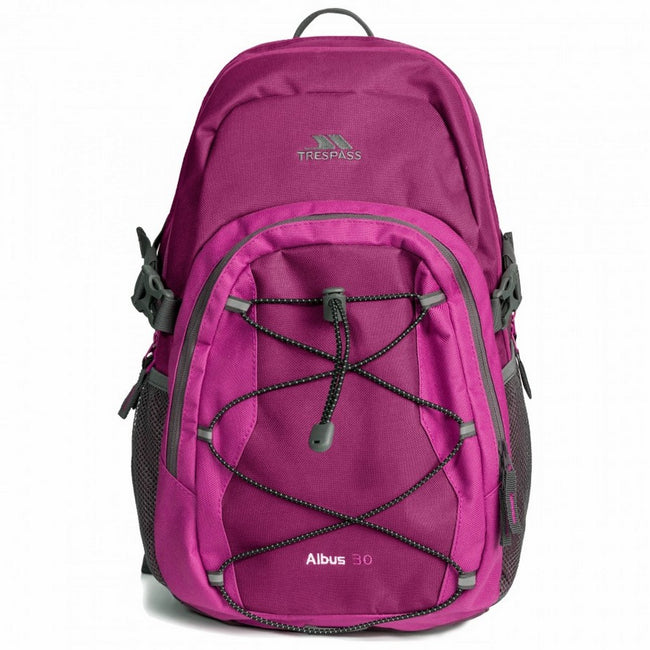 30 Litre adjustable backpack.
Multi-function.
3 zip sections.
Internal pockets.
Internal keyring.
600D Polyester.
Dimensions: 30cm x 15.5cm x 47cm.
Trespass Hiking Backpack
A trespass hiking backpack or a rucksack is probably one of the most important commodities required for hiking be it in the mountains or the forest. Hikers require more than their spirit to survive and enjoy their trip.
A spacious trespass hiking backpack or rucksack is very helpful to carry navigation tools, food and water, a first aid kit, extra clothing and camera equipment. Moreover, it is also essential for the backpack or the rucksack to be waterproof, light and spacious.
This is where Universal Textiles can help you with their Trespass Hiking backpack/rucksack collection. Trespass is the perfect choice for experienced as well as new explorers. These backpacks can be used for a variety of purposes and can be found in a lot of different sizes. However, to choose the best rucksack there are some things that you need to know.
What rucksack or backpack should I choose?
Does the backpack fit and offer comfort: - It is the most important factor to consider while choosing a backpack. The backpack or rucksack should fit properly. It shouldn't be a source of discomfort. Therefore, the fit should be of prime importance when determining which trespass hiking backpack or rucksack to buy. Make sure to try on the rucksack or backpack before buying a backpack. A lot of rucksacks have an adjustable hip belt that helps you adjust the belt height. Make sure to buy a rucksack or backpack that makes your trip easier.

What size should you choose? - Basic rucksacks and trespass hiking backpack start from 30L and go up to 85L. It is recommended for new hikers to choose the 30L backpack because it is easier to manage. However, if you are planning to camp out for a longer period you should opt for the 85L backpacks. Carrying a larger-than-required backpack may be difficult to manage. Therefore, choose a backpack according to the purpose. opt for a smaller backpack or rucksack if the trip is shorter and a larger backpack or rucksack if the trip is longer.

The capacity of the backpack or the rucksack – As mentioned above hiking bags and rucksacks can be used for a lot of other purposes. The capacity of a backpack heavily relies on whether you are planning to stay indoors or outdoors. Staying outdoors would require the use of tents, sleeping bags, ropes and other gear. This will increase the weight of your luggage significantly. Therefore, the capacity of a backpack should be less for indoor activities and more for outdoor activities. Opt for backpacks that have inbuilt storage for sleeping bags. In case the backpack doesn't come with a sleeping bag pocket make sure to invest in a good compression bag to make your camping trip easier.

Water-resistant backpacks or rucksacks: - Your backpack should be water and weather-resistant. Camping trips can be extremely hard with bad weather. It is also essential in such cases to keep the contents of the backpack or rucksack dry. In case, you are using it for other purposes apart from camping or hiking it might be an added benefit. Therefore, whilst choosing a backpack make sure that the backpack is water resistant. In a lot of cases, backpacks and rucksacks are equipped with rainwater covers. This layer protects your backpack from extreme weather conditions.

Additional Features to look for: - You can opt for a backpack or a rucksack whose lower pocket allows access to the actual storage space. This is a particularly useful feature as this allows you to access all portions of the bag without emptying the whole bag. It not only helps in better management but also helps in saving time during emergencies.
Another feature to look out for is the presence of compression straps. Compression straps help in keeping your trespass hiking backpack secure and it minimises or stops the internal as well as external shifting of commodities. Moreover, releasing these compression straps will increase the capacity of the bag therefore you will be able to carry more things.

Hip belts can be very helpful for storing frequently used items. These belts can either be attached to the rucksack or backpack or they can be bought separately. In rare instances, these belts might be equipped with pockets which help in storing essential frequently used items.

Rain covers are one of the most essential features. Most backpacks or rucksacks are up to some limit waterproof. This means that up to some limit these backpacks will shield your contents from rainwater. However, they offer poor protection during downpours and heavy rainfalls.

This is why you must choose a rucksack that comes with a rain cover. Alternatively, you can buy a rain cover for your existing rucksack or backpack.
Hiking doesn't have to be a laborious ordeal. Even though in most cases we all tend to carry more things than we need. Noting down which items weren't used or were used rarely might help you manage things better on your camping trip. A hiking bag will help you carry things and beyond that. From keeping your things clean and dry to keeping them safe and secure a hiking bag does it all.
Make sure to check out our collection of Trespass Hiking bags on Universal Textiles. Our store has a wide range of collections including the trespass 35L rucksack, trespass 20L rucksack and for our more adventurous shoppers the trespass rucksack 65L and the trespass waterproof backpack. We have something for everyone!
FAQ
How is a hiking backpack different from a regular backpack?
Hiking backpacks are way more comfortable and are equipped with padded hip belts and shoulder straps.

Are pole holders available with the Trespass Circul8 Hiking Backpack/Rucksack (30 Litres)?
Yes, they are available.

Can the straps of my hiking bag be adjusted?
Yes, the straps can be adjusted for a comfortable experience.

How do I track my order?
A relevant link will be sent to you once you place an order with us. Kindly use that link to track your order.

How much will I be charged for international delivery?
You will be charged £6.95 for international delivery.
Related Winter Wear Links:
Excellent service.. Fab backpack
Good size bag. Plenty pockets etc.
UK Standard Delivery (3-5 Working days) - £2.59

Spend £50 for FREE UK standard delivery (3-5 Working days).

Europe & North America (7-10 working days) from £3.95
Rest of the World (7-12 working days) from £6.95

IMPORTANT: The above are delivery times and do not include the time it will take to dispatch the goods from our warehouse. Some products we need to call in from our other warehouses. On each page we will list any extra working days required to dispatch the item.
Goods can be returned within 30 days from the date the order is received. We request the goods must be in the same condition they were delivered or in a saleable condition. So the item should not have been damaged, soiled, washed, altered or worn (other than to try the item on) and that any labels or tags should be intact.
You can find out more about how to return your items HERE
In the description section of this product page you will find brand specific
sizing if it differs from the International size chart.
If you would like to see the International size charts please click
HERE
.
Trespass Albus 30 Litre Casual Rucksack/Backpack